You looked at yourself in the mirror this morning and realized something strange; your neck is darker than your face. This changed your dressing plans for the day because you probably had to remove that gorgeous backless dress. We all want to look good because our outlook will always determine our confidence level.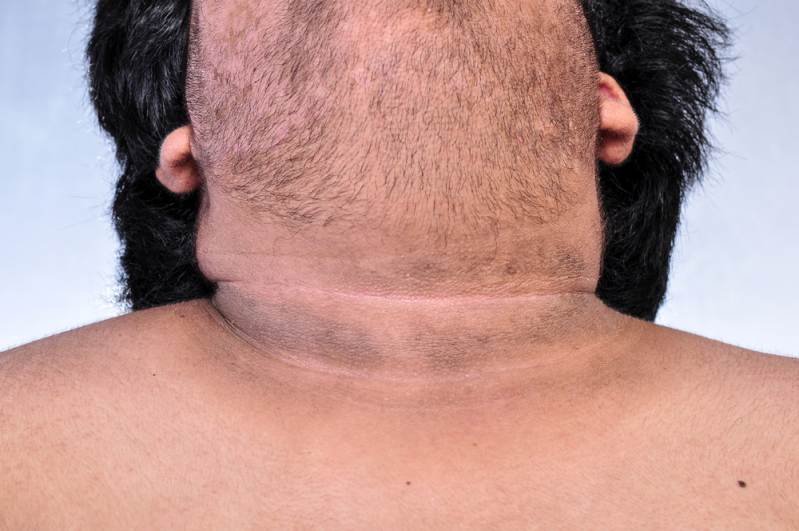 Having dark skin around your neck is confidence wrecking. You are probably walking around today feeling like everyone is laughing at your black neck. Maybe you ditched the backless dress for an uncomfortable turtleneck blouse. You feel awkward and out of place.
The reason why you are reading this post is that you want to know how to get rid of black neck overnight because you don't want to look weird tomorrow. There are several remedies out there but this is not the first thing you should be doing.
The quickest way to remove this dark skin and look amazing should start by asking yourself the question why is my neck black? Understand the reasons and you will be halfway through to find the best treatment.
Dark neck causes
There are several reasons why you are having dark spots or skin on your neck. Here are some of them;
Poor hygiene– most people concentrate more on cleaning their face than the neck. How often do you take shower? How do you clean it? The dark patches on you in this area could be primarily because you are unhygienic.
Exposure to excessive sunlight– long-term exposure to excessive sunlight will eventually lead to you having the skin around this area and other parts darkening.
Diabetes – The dark pigmentation around your neck could be a result of insulin resistance being caused by Diabetes. You suffering from diabetes? If the answer is no, then you need to go for a checkup. Having dark spots around neck due to diabetes is a condition called acanthosis nigricans.
Overweight/obesity- Being overweight or obese leads to changes in hormones. Hormonal change may cause dark velvety spots around this area.
Fungal infection – it may be black due to an underlying fungal infection.
Medical side effects- Medication can lead to dark patches on your neck. Are you on any medication? Check out for its side effects, it may explain why it may be black.
Aging – old age comes with many complications. Your body has undergone a lot of changes and challenges. It may also be black when your body decides to react to the many toxic cosmetics that you have subjected it to.
Pregnancy – Dark pigmentations around your neck could be a sign that you are pregnant. This is a condition known as chloasma which is caused by the body producing extra melanin that protects your skin against UV light.
Having looked at the possible causes of black neck, let us now focus our attention on how to get rid of the black neck. Depending on the causes, here are some of the most efficient remedies.
Home remedies
Today, I will show you how to remove dark spots on your neck using simple and readily available ingredients that are easily available in your kitchen. follow the instructions if you want to lighten these dark spots or skin.
1. Cleansing, steaming, exfoliating and skin lightening pack
This is the whole package. It is the fastest way to lose dark skin around your neck using natural home remedies.
STEP ONE: Cleansing
Ingredients: Raw milk and smooth cotton fabric
Use a piece of cotton to apply raw milk to the dark parts.
As you apply, massage the skin for 2-3 minutes.
Wipe your neck using a cotton fabric.
Cleansing helps remove dirt from the skin.
STEP TWO: Steaming
Ingredients: A face towel and a bowl of hot water.
Soak the face towel in hot water and squeeze excess water from it.
Place the towel on the neck for 2-3 minutes.
Repeat the process three times.
Steaming opens the pores. It also helps to remove dead skin cells that might be causing the dark skin around your neck.
STEP THREE: Exfoliating
Next, we make an exfoliating moisturizing scrub for the black region.
Most people want to know how to get rid of the dark neck with baking soda. Today is your day.
Ingredients: fine salt, baking soda, olive oil (coconut oil can also work)
Add one spoon of baking soda to three spoons of salt. Add two spoons of olive oil and mix.
Apply this mixture gently using a bathing scrub. Do it for 2-3 days
Exfoliation smoothens and lightens your neck by removing all the dead skin.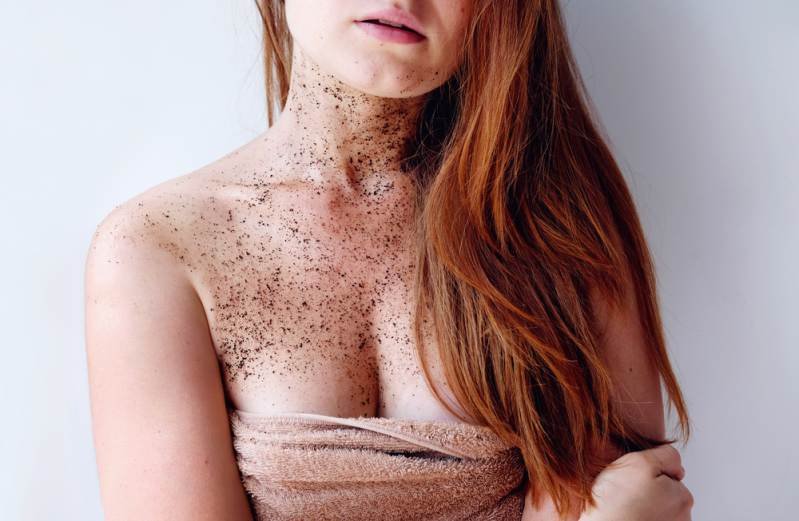 STEP 4: The dark neck removal paste
INGREDIENTS: Gram flour, honey, lemon, raw milk
Procedure
Mix five tablespoons of gram flour with three tablespoons of raw milk. Add one spoon of honey and 4 drops of lemon into the mixture.
Apply the mixture to the dark skin around the affected parts using your fingers.
Leave it to dry.
Apply raw milk on your neck and massage for 5 minutes.
Clean the area with a wet cloth and then wash it.
Do this alternatingly 2-3 days a week.
Gram flour has skin exfoliating and bleaching property. It gives your neck a radiant glow.
Milk hydrates and lightens your skin.
Honey works as a moisturizer for your skin.
Are you looking for the best neck lightening remedy? then try out this therapy.
2. Use lemon juice and rose water
Here is another simple way on how to get rid of black neck spots overnight. We will use a mixture of Lemon Juice and Rosewater.
Procedure
Mix equal amounts of lemon juice and rose water.
Apply the mixture to the affected areas before going to bed
Leave it overnight and wash it off in the morning.
You will start seeing changes after just one day.
3. Use Aloe Vera
Another simple procedure on how to remove tan is to extract pure Aloe Vera gel from leaves and apply it to the affected neck region. Let it dry for 20 minutes and wash it off with water. Do this every day; it will start lightening.
Aloe Vera has got aloesin which helps lighten the skin by inhibiting the activity of enzymes responsible for skin pigmentation.
The vitamins and fatty acids present in Aloe Vera also nourish and hydrate the skin.
4. Use cucumber juice
Apply cucumber juice all over your neck.
Let it stay for 15-20 minutes
Wash it off and apply some Rosewater.
Do this daily until you get desired results
Even though it's a short procedure, it's highly efficient.
5. Use apple cider vinegar
INGREDIENTS: 2 tablespoons of app cider vinegar, 4 tablespoons of water and cotton balls.
Procedure
Mix the Apple cider vinegar with water.
Apply the solution on the affected area using a cotton ball.
Leave it for 10-15 minutes then rinse with clean water.
The malic acid present in Apple Cider Vinegar exfoliates the dead black skin from your neck.
Removal Creams
For every skin condition out there, there's a cream that can help treat it. The condition is not an exception to this. There are several treatment creams available in cosmetic shops.
The effectiveness of dark neck removal creams is dependent on several factors chief among them being following the prescription to the latter. Price also matters; the more expensive, the more effective.
Creams with glycolic acids and lactic acid can help you get rid of darkness around the skin. To get the most effective results from removal creams, use them in combination with other remedies. The best whitening cream is the one made from organic ingredients.
Medical removal methods
There are several medical procedures that you can use to effectively remove dark neck skin. Visit a qualified dermatologist to get expert advice on the best methodology. It is also important to note that most of these procedures are quite expensive.
a). Use of Laser therapy
Do you want to know how to get rid of acanthosis nigricans? Then try out the laser therapy. This a new technology used by dermatologists to improve skin complexions. They are focused light beams that have different targets based on which wavelength the light has been focused on. It is one of the best treatment for diabetes patients.  Controlling blood glucose levels through exercise is also one of the options on how to remove dark spots on neck resulting from acanthosis nigrins.
b). Chemical Peels
Want help on how to remove dark tan from your neck? Then try chemical peels. They are medical treatments that help the self-exfoliate older darker skin. Visit an experienced dermatologist who will advise you on the best chemical peels for you.
c) Microdermabrasion
This is a physical medi-exfoliation of affected skin using a diamond crystal handpiece. The procedure should be performed by a qualified dermatologist.
Conclusion
Using home natural remedies to get rid of darkness around the neck requires a lot of consistency before you get the desired results. You should be creative and blend two or more of the above remedies to achieve faster results.
Observing high levels of hygiene and reducing weight (if you are overweight) can also prevent this skin hyperpigmentation problem around your neck. The easiest way to deal with dark neck during pregnancy is to stay away from excessive sunshine which causes it. Ensure you apply sunscreen moisturizer on your skin when going out.