You have a date tonight and have picked out the perfect dress. You dress up but a quick glance in the mirror makes you cringe: back fat. There are bulging rolls of flesh plus your bra's outline can be seen through your dress. It's annoying but the situation can be salvaged.
Along with wobbly tummies,  these fats has become one of the hang-ups for women today. It's become a demon plaguing most women. Your bra looks great from the front but the back is not so great. It doesn't matter if you are chubby or skinny, at some point we suffer from this phenomenon. The softer your flesh is, the more pronounced your bulge is.
Regimes and exercises are available to rid yourself of the backfat including yoga, and cardio.  The fact that you are here, however, means you want an easy way out, which is okay. There is a way to eliminate it without having to try really hard.
How to hide back fat
Wearing a size too small makes worse. This is according to Anita Patrickson, author of Ask Anita and a celebrity fashion stylist. Squeezing into a smaller size does not make you smaller than you are, in fact, it does the opposite. Wearing fabrics that don't stretch also accentuates back fat as do dresses or tops that have horizontal cuts at the back.
To hide or cover these fats:
1. Buy a bra size that fits
Forget what size you wish you were. You know, almost every woman has at one time bought a smaller brassiere. We either think it will motivate us to lose some pounds or fail to accept our size. Wear what fits a slimmer polished look.
2. Get fitted to know your correct bra size.
Suffocating your boobs by wearing a small bra creates the bra bulge. It also creates some very unflattering lumps at the back, which show through your clothes. Go for smooth lines which won't cut into your back or shoulders, when you wear a good bra, you should be able to adjust the straps so that they are tight enough. A good fitting one does not dig into your flesh.
3. Wear full coverage shirts and dresses or those with a V-shaped 
The V-shaped back elongates your back area. If you wear the right size brassiere, full coverage will make sure your body presents fewer places for the bulge. It looks smoother, especially without the extra cuts and hemlines.
4. Wear smoothing shapewear
If you have to wear something tight for that flattering look, slimming shapewear worn underneath will work magically. The shapewear smooths out the bulging areas and makes your clothes look better on you.
How to choose the best bras
Tomima Edmark, president and founder of HerRoom.com, shares some secrets on how to minimize bra back fat. The solution according to her is:
Choose one with more coverage.
Avoid thin straps and bands.
Avoid going up a band size to try and reduce its appearance. When your its band is too loose it will creep up your back, push your back tissue up and thus create a more prominent bulge.
Avoid loose bands too since they compromise your fit.
Avoid wide leotard back since they do not minimize the bulge and cause strap slippage.
Eliminate back brassiere bulges by:
Wearing a properly snug bra band. The band will grab you at your narrowest part and reduce the upward creeping which contributes to the back bulge.
Wearing a shaping camisole can also help since it greatly reduces the bulge and gives you a smooth look under your clothes.
Wearing one with taller bra wings. They spread out the pressure over a wider area and cut down on the bulges including those under the arms.
Wearing a U back (Leotard). It creates a pretty backline and reduces bulges with its curved shape.
Go for straps that are attached close together to add an angle. This design then allows for the wider sides to be paired down at the center and reduces strap slippage incidents.
Use Racerback (y/ t) bras. They eliminate this bulge. Their back panel covers a wide surface area thus reducing bulging. They also have the added benefit of hiding bra straps when you wear sleeveless blouses.
When buying a bra, size up your brassiere back and make sure it has the right features to reduce bulges and give a smoother look.
4 best back smoothing bras
The market today is full of bras that hide back fat. You just have to know which one to buy. The following are some of the best  brands to consider:
1. Spanx Bra-llelujah brassiere
It is a great back fat smoothing bra.  It has a front closure design and is super smooth with a stretchy back band. It disappears under your tight clothes and clinging tops. All the lumps and bumps are gone! To top it off, the straps do not keep slipping off your shoulders. It also hides them from view. The straps are also impeccably attached to the bands and are smooth and made of the same material to create the invisible look. The stretchy material is flexible enough to fit your body's shape.
However,  it does not have adjustable straps and only has one closure clasp. This means that you can't customize it for a secure fit.
2. Warner's No Side Effects Full Coverage Bra
It's well known for its unique seamless edge found under the armpit. This smoothens the back and eliminates the budge. It's made of elastic free material and is invisible under the clothing. It's available in many different prints and patterns and can be worn under any outfit.
3. Bali Lace Desire Back Smoothing bra
It has a U back design with a smoothing effect and a decorative lace. The lace also graces the cups on the front which makes it a little fun. If you are petite, you will love the adjustable straps. The slide adjuster also allows you to find a perfect fit.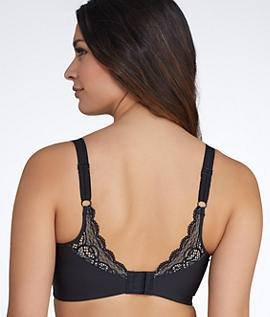 4. Playtex 18 Hour Sensationally Sleek Front Close Bra
Has several hooks and eyes that allow for extra comfort and full coverage. It totally smooths out the back fat and easily hides underneath your clothes. It has adjustable straps and is comfortable to wear.
References:
https://www.anita.com/blog/en_global/2016/09/05/back-fat-and-how-to-hide-it/
https://www.herroom.com/minimizing-back-fat,1050,30.html