There is a proliferation of skin lightening soaps in the market. However, if you are not careful, you may end up with hyperpigmentation, acne scars, or melisma. If you wish to embark on the lightening journey, then you need to consider your skin's health and its nutrition before and after the procedure.
Which are some of the good and most effective soaps to use for great results? Let us look at some of them and discuss something small on each.
Best brands
Here are some of the best brands in the market.
Likas Papaya Soap
This is a product of Trinidad Cosmetics Laboratory inc. in the Philippines. One of the ingredients it contains is papain extract which is a product of the papaya fruit. The enzymatic properties of papain extract help in exfoliation and whitening.
Regular use leads to the removal of the outer "dead" skin cells, thereby revealing the more youthful, lighter skin. On the downside, the whitening effects are minimal compared to other brands in the market.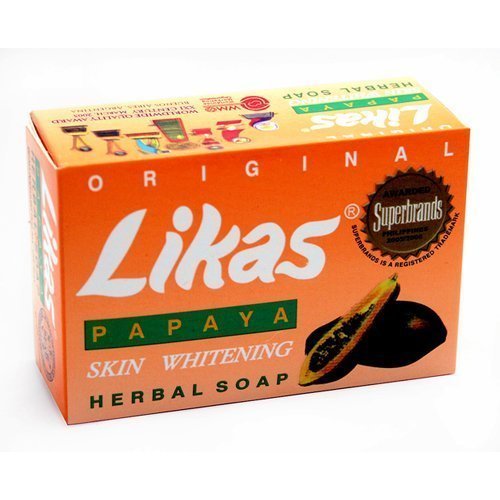 Kojie San Kojic Soap
Kojic acid is one of the most effective bleaching agents in the market. The acid is extracted from several species of fungi. Kojic acid is the key ingredient. Therefore this product is a highly effective lightener.
It has the highest reviews as the best lightening soap for black skin. Moreover, the product has been dermatologically tested, and there are many satisfied customers who attest to its fairness enhancing properties.
It helps in the elimination of acne, uneven skin tone, dark spots, and heals it if it is sun-damaged. You can also go for the original kojic acid whitening soap. This product is formulated with the kojic acid in its purest form.
On the downside, kojic acid can harm you if you have sensitive skin. It is advisable to discontinue its use if you experience irritation, redness, itching or swelling.
If you opt for it, then give yourself about 8-10 weeks before you start seeing the amazing transformation.
Psalmstre New Placenta Herbal Beauty Soap – Goats Milk
Psalmstre is also conducive to black skin. The product contains ingredients such as botanical placenta extract, coconut oil, and vitamin E. These ingredients make it ideal not only as a lightener but also people with sun-damaged skin, pimples, and other blemishes. It is an effective exfoliator, moisturizer, and anti-aging.
Glutathione Soap
Glutathione is a powerful antioxidant that naturally occurs in human cells. This ingredient can cause skin lightening by discoloring the melanin. Also, it deactivates the enzyme tyrosinase which fuels the production of melanin. Glutathione is an effective peeling agent. It exfoliates the top layer leaving behind a lighter, more youthful one.
Therefore, the frequent use of this product will definitely help you achieve the best lightening results.
A word of caution: If you opt for this soap, then you need to use it together with a moisturizer as it causes skin dryness. Also, go for a high-quality type such as Dianer Stalder glutathione soap which contains a higher concentration of the antioxidant.
Kojic Acid, Placenta, & Glutathione Triple White Soap
It contains all the three key lightening ingredients. As a result, the benefits are more lasting and effective compared to using the ordinary glutathione soap. However, it is not suitable for sensitive skin.
Dr. Woods English Rose Lightening Soap
It is designed for people with hyperpigmentation, pimples, and blemishes and it contains an extensive array of skin-friendly ingredients such as organic Shea butter, powdered milk, apricot powder, and the English rose fragrance. This product not only lightens your skin but also leaves you feeling fresh and nourished.
Professional Skin Care Formula Arbutin Soap
This product is one of the most powerful lightening soaps in the market. This is because if its key ingredient, alpha arbutin, that is just as effective as kojic acid. Alpha arbutin causes micro-peeling and lightening. Its effective use will lead to a lighter, more youthful skin.
Lotus Black Herbal Soap
It contains 100% ayurvedic natural ingredients that enhance your skin's fairness by effectively controlling melanin without drying it out. On the downside, being mild, natural, it takes longer for noticeable results.
PSCF black bleaching
This is another favorite brand as it consists of kojic acid. It also contains grapefruit extracts and glycerin to enhance your skin fairness. It lightens skin pigmentation, scars, and blemishes.
SCT Gluta Kojic Ultra
This is another extraordinary product from the Philippines. It contains safe and friendly ingredients such as glutathione, kojic acid, and tea tree. The soap can cause itchiness due to its drying effect. However, you can solve this issue using a moisturizer.
Soaps for a sensitive skin
There are several products to try out if you have sensitive skin. You can go for the Papaya soap which is ideal f. There is also the new Olay whitening body bar and Olay Natural White body bars which have also received high reviews from people of all skin types including a sensitive one.
What to avoid
Avoid soaps containing sodium lauryl and hydroquinone. These chemicals are harmful to the skin and can lead to premature aging. On the other hand, products containing papaya. Kojic acid, arbutin, and glutathione are not only effective lighteners, but they also prevent aging and give your skin the much-needed antioxidants.
What to look for
Look for products with natural ingredient such as papaya. Papaya soaps take a longer time to achieve visible results. However, if you are in a hurry, then the kojie san kojic soap is preferable.
Don't settle for less as there are a sea of products in the market offering the promise of lighter skin. Simply opt for good brands (such as the ones on the top ten list). The kojic glutathione works wonders. On the other hand, the placenta soap is ideal for older skin. If you opt to use the bleaching creams to get a lighter shade, then be careful as they can be aggressive and use them sparingly.
Also, consider getting advice from your dermatologists and avoid any product you find of the counter promising fast results. Some may be harmful.
Finally, beware that even some of the brands we have mentioned have counterfeits which may not achieve the desired results. Therefore, ensure you buy them from only a reputed and trusted vendor.