One of the main reasons people apply sunscreen is to avoid skin cancer. Thanks to climate change, and the disruption of the Ozone layer, people are more susceptible to these tumors. Excessive sun exposure can also lead to damaged skin texture and tone thereby promote early aging.
In spite of the importance of sunscreen, looking for a good one for oily skin can be frustrating. Ingredients contained in ordinary sunscreens such as titanium dioxide and zinc oxide can be occlusive (pore blocking) for people with oily, combination, or oily and acne-prone one.
When shopping for sunscreen, one of the main concerns for people with oily skin is whether the ingredients contained in the product can lead to breakouts. Titanium oxide and zinc oxide pose the first threat. Although you are not guaranteed to break out by using sunblocks with these ingredients, you face a higher possibility.
Best sunscreen – Top brands
The search for the best sunscreen for oily skin can be daunting, considering that everyone is unique and what works for me may not necessarily work for you. Regardless of the claims made by brands, the ingredients used to suspend sun protecting agents are not exactly ideal for sensitive, oily, or acne-prone skins. The product may make it more greasy which is more frustrating. Moreover, the contents of the product may lead to irritation and breakouts due to the synthetically manufactured sun protecting agents.
Due to the wide array of formulations presented by brands, it may be difficult to quantify which chemical ingredients are more problematic to the person with oily skin and the ones less problematic. Ingredients such as benzoyl peroxide, hydroquinone, Renova, or AHA's can work well. However, they can lead to irritation. Zinc Oxide and titanium dioxide are less irritating. Sadly, the heavy nature of the cream can clog the pores leading to breakouts.
The truth is, you will have to experiment and find the right product to suit your skin. But before you get too gloomy, you need to know that there are some great products out there. Here is a list of some of the best sunscreens for oily face.
Neutrogena clear face liquid lotion sunblock
This Neutrogena product has a high review due to its innumerable benefits. The Neutrogena Sunblock is free from fragrance, oil, and a chemical known as PABA (para-aminobenzoic acid). This SPF 30 product is one of the best sunscreen lotions for oily skin in the market. You can also try the Neutrogena Ultra Sheer Dry Touchbloc SPF 50.
Banana Boat Natural Reflect Baby Sunblock Lotion
The Banana Boat brand is well-known for its good products. It is great for sensitive skin, including oily ones, and combination type. It has naturally sourced mineral sunblock ingredients. However, the product is a bit heavy/thick which can make application tricky.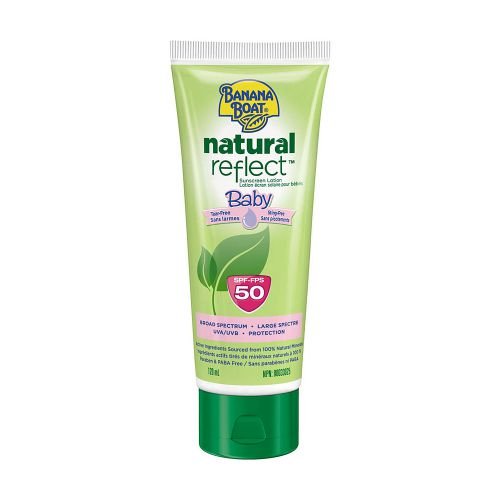 Kiehl's Dermatologist Solutions Super Fluid UV Mineral Defense Titanium Dioxide Sunscreen SPF 50+
The Kiehl lotion is lightweight and made from mineral-based sunscreen ingredients. This brand is one of the best tinted-brand for oily skin. It does not cause irritation, burns, or greasiness.
Avéne Ultra-Light Hydrating Sunscreen Lotion
The French made Avene brand is renowned for its lightweight, non-greasy texture. This 100% mineral-based, oil-free sunblock lotion contains UVA/UVB filters, along with some strong antioxidants that make it suitable for people with all skin types, including oily, and sensitive one.
Cetaphil Dermacontrol Oil Control Moisturizer
It is a non-greasy sunscreen lotion specifically made for oily, acne-prone skin. This product utilizes Oleosome technology which entails a lower concentration of sunblock filters that would lead to irritation. The product offers a broad spectrum of UVA/UVB sunscreen protection. Also, it is a 3 in 1 formula meaning that it protects you from the effects of the sun while at the same time helping to control sebum and shine. This product also hydrates the skin.
Derma E Antioxidant Natural Sunscreen Body Lotion
This is one of the few products in the market that is free from zinc oxide. The brand is fragrance-free, oil-free, sensitivity tested, and hypoallergenic. Also, the formula contains antioxidants such as vitamin C and green tea thereby helping your skin to recover from sun exposure.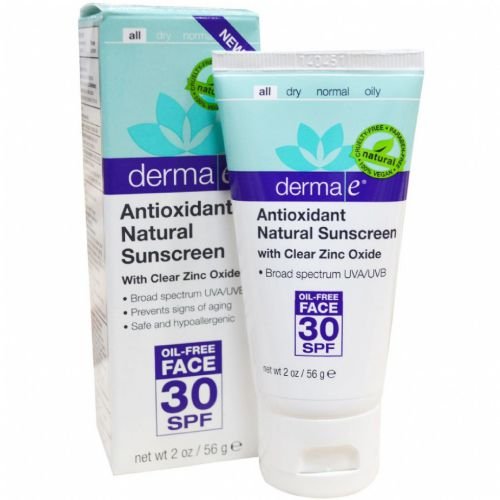 Olay Complete All Day UV Defense Moisture Lotion Sensitive Skin
This is an oil-free sunscreen that is suitable for sensitive, oily, and combination skin. It is non-comedogenic (won't clog pores), moisturizes it, and contains SPF 15 UVA/UVB protection.
Best creams
If you prefer a sunscreen cream, you can go for the Neutrogena Age Shield Face Sunblock Lotion Spf 110 which is an oil-free product. You can also try out Clique's Broad Spectrum SPF 30 Sunscreen Oil-Free Face Cream. This product is appropriate for people of all skin types including a sensitive one. Moreover, Clinique's sunscreen is non-acnegenic and layers well with other makeups.
The best sunscreens for oily skin 2019 include the Neutrogena Clear Face Liquid Lotion Sunblock, the Banana Boat Natural Reflect Baby Sunscreen lotion that was initially intended for babies but has become one of the most preferred brands in the market. There is also the La Roche Posay Anthelios 45 Ultra-Light Sunscreen that is ideal for sensitive skin, and the MD Solar Sciences Mineral Tinted Crème.
What to avoid and what to consider
Avoid sunscreens with ingredients such as mineral oil, synthetic chemicals, and alcohol. These ingredients clog the pores making the oily skin worse. Synthetic ingredients such as urea, PABA, dioxins, and parabens increase the risk causing irritation and have been linked to skin cancer.
The best sunscreen for oily skin should contain natural ingredients. Whereas Zinc Oxide is preferred for its sun protecting capabilities, there are plant oils that can help protect your skin as well. For instance, red raspberry seed, carrot seed, soybean, wheat germ, olive, jojoba, lavender, macadamia oil and, Shea butter which are not only naturally found, but also contain the SPF factor.
Whether you have oily skin, or any other type, using a product containing natural oils is good for your skin. The best protection from the sun is also wearing light clothing. The clothing will provide much-needed protection and will not harm your skin as most chemical sunscreens do.
Wearing a foundation with SPF is advisable especially for women who are not fans of layers of products on their face. Currently, there are enough tinted moisturizers and foundations with SPF. On the downside, you will need to apply the foundation generously, and you may need to do some touchups during the day.
Final advice
If you have oily skin and you have had your fair share of frustrations when it comes to shopping for a sunscreen, then you already know by now that there is no product that can legitimately claim that their ingredients won't lead to breakouts. Therefore, try to find what's best for your skin and avoid products containing harsh chemicals. Remember the buyer beware line; what works for me may not work for you.