A straight body shape is often referred to as a rectangle or a ruler shape, mainly because both these things are straight. The name itself gives a clue as to what it like but it is generally characterized by a few things.
How does straight body shape look like – identifying it
This shopyourshape.com says you have an hourglass figure if:
Your hips and bust are balanced
Your waist is not very defined
You probably have a bottom that is more flat than round
You tend to gain weight in your torso first and then your upper thighs and arms
Your lower legs are always shapely and one of your best assets
What to wear
The thing about the straight body type is that it does not have curves, naturally. Many women complain of having a boyish body. However, 45% of women have it.
The only thing is to know how to dress your body type to your advantage.
General rules for dressing a straight body shape
Some of the general rules for dressing include the following:
Break your outfits
This means wearing either layered clothes or using color to break up your outfit if it's only a one piece. So wear pants and shirts or skirts and shirt combo's and with dresses make sure to add something that breaks it up.
Define the waist
This is especially important for the rectangle body shape because it helps to add curves where they may be less defined. It also helps one look a lot more feminine.
Add frills, bows, and ruffles
This helps to add some bulk to the areas you want it in, such as the bust. It also helps to make your waist look thinner.
Wear bright colors
Everyone should anyway, but pairing your outfits with a bright color makes them stand out and looks wonderful.
Invest in prints and cuts
You want to experiment with different prints, textures, cuts, and shapes. This is because the straight figure can complement many different styles. It also helps to break the outfit,
Accessorize
Accessorizing your outfits is a great way to really bring them out and also adds to your shape.  Jewelry, good shoes, hair accessories, etc. combined with a good outfit can really elevate your looks.
Good underwear
This is a standard for all body shapes. However, for a rectangle one, a proper push-up bra does the wonder of curving out your shape and adding bulk to your chest.
Tops and jackets
Belted/ gathered waists
While with the hourglass figure, a belted top or jacket serves to accentuate the already slim waist, in a rectangle body shape, it creates a slimmer waist. The same goes for a top that is gathered at the waist, it creates the illusion of a small waistline.
Dark-colored skinny and wide belts. Make sure to wrap the belt around the thinnest part of your waist for maximum slimming effect! Thechicfashionista
Full tops
Tops that balloon in the bust area would work well for a straight body shape by adding to the bust size. These tops generally tend to slim down from below the bust. However, tops that fit at the bust and then flow down create the same illusion of a small waist.
Also wearing tops with full sleeves or flutter sleeves
Necklines
The hourglass figure can experiment with many different necklines. When it comes to V necklines, straight bodied women can allow the V to run low, deep into or further than their bust. This is because it looks far more decent while still being sexy than it would on a body shape with a full bust.
Off the shoulder tops and wide necklines also do wonders for this body shape by suggesting a smaller waist. If worn with a padded bra, they also add bulk to the bust.
Tailored jackets
If they are tailored with "structured shoulders and a nipped-in or belted waist" (shopyourshape.com) then they enhance the curves on your body.
Bottoms: pants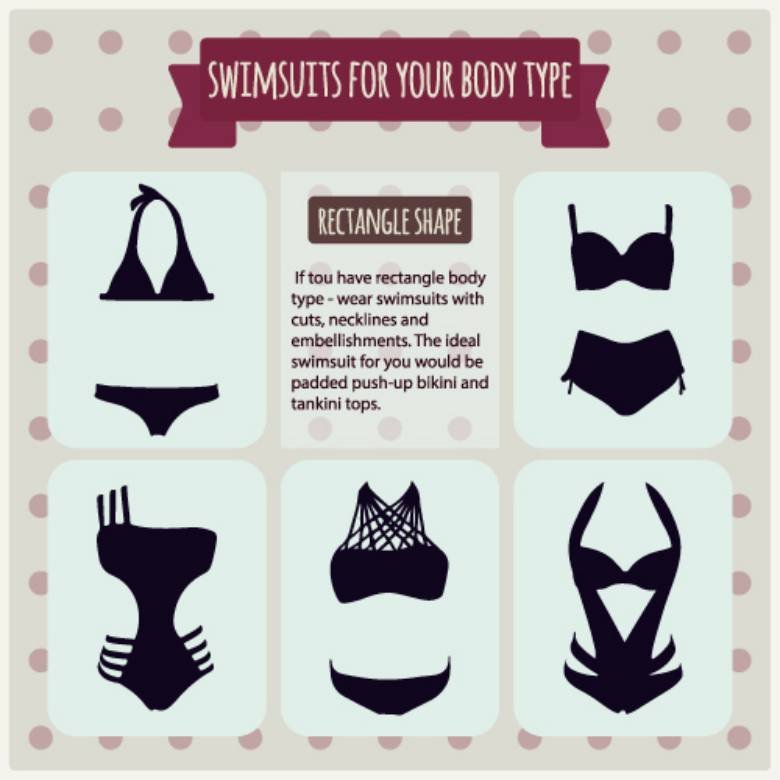 The straight body shape is lucky in that it can pull off any type of pants whether it be "Slim, straight, bootleg and wide leg" (style angel)
Low waist or mid-rise pants
Because there is not too much cushion for the pushing, Rectangular bodied people can opt for sexy low-rise pants, especially when they are fitted.
Mid-rise pants work well too with this body shape by tucking in the tummy and streamlining the body. High waist pants would work too, but would likely flatten the bottom even further
Pockets
Buy pants with flap pockets, or bigger pockets to add bulk to the rear region. This gives you a place to keep your phone will adding curves to your body.
Embellishments and designs
Look for designs that enhance your pants whether it is pocket designs or hip designs. Wearing material pants with different color designs also increases curves.
Bottoms: skirts and dresses for the straight body type
Classic Cuts
These work just as well for this body type especially the pencil skirt, as it works to widen the hips and narrow the thighs. For extra effect, side stitched pencil skirts add curves. Avoid A-line skirts as they do nothing for this body shape other than taking all the shape away
layered skirts and ruffles
One of the body shapes that can pull of layered skirts and dresses. These are great because they fill out the hips and bottom creating the illusion of more roundness than is actually there. Ruffled skirts and dresses do the same.
High waisted skirts
These work only with skirts that have prints or bold colors to take away from the straightness of this body shape. Adding a belt magnifies the illusion as well.